The Fastest

route
to do 

e-invoicing
Manage all your business invoices, clients, product codes and taxes all in one place. Easily e-Sign and submit invoices in bulk or individually.
Electronic seal
Sign your invoices using your e-seal before submitting to the ETA portal.

Easy Product Coding
Easily register your products or services, Either individually or in bulk. Track ETA approval status of your registered codes, and easily use them in issuing your business invoices.

Fast and simplified e-invoicing
Create and send e-invoices in just a few steps by autofilling recurring invoices or simply downloading from saved templates.
Company Profile
AlMohaseb works as an integrated system that guarantees you ease of use and retention of all data and invoices of your company and linking them to the ETA

Clients Registry
All clients info are automatically saved in the clients registry for easy filling in invoices.

Submission to ETA portal
Submit one or more signed invoices to the ETA portal in one step and track acceptance status.
AlMohaseb

is a software solution for managing e-invoices
Fully

aligned

and integrated with

the Egyptian Tax Authority (ETA)
and at the lowest price in the market.
Top quality at competitive price
Up to 90% lower price than other solutions

Secured
All your financial data is stored on your computer and at the ETA

Unlimited number of e-invoices
Unlimited number of users connected to the same company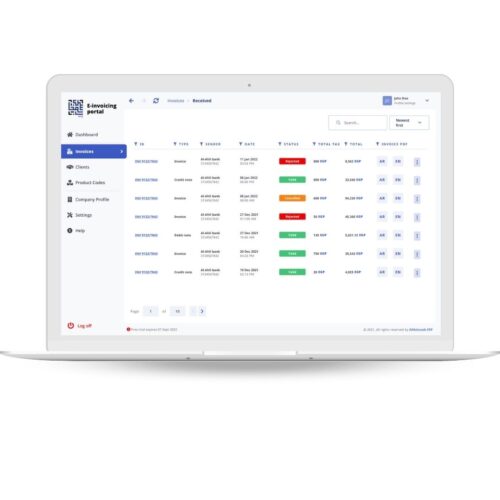 based on any new rules and laws issued by ETA
Compliance/Readiness to expand

Fully automated process
no complex integration processes needed thanks to the fully integrated platform

Seamless activation and payment
Compliance/Readiness to expand

All invoices in one place

Monitor the status of invoices

Get reports on the most important metrics
Find out about our special plans
AlMohaseb is fully compatible and integrated
with the Egyptian Tax Authority (ETA) at the most affordable rates in the market.
Unlimited number of e-invoices

Unlimited number of users
* Does not include value added tax
Unlimited number of e-invoices

Unlimited number of users
* Does not include value added tax
Ready to start now?
The fastest and most economical way to create your electronic invoices
Start using Al Mohaseb
in quick steps

The fastest and easiest steps to start issuing e-invoices.
Do I need an ERP system to use AlMohaseb?
No, AlMohaseb is a standalone software and it's aligned and integrated with the ETA portal. Just install AlMohaseb, connect with your company and start issuing and receiving invoices.
Is it free?
It's almost free! Al Mohaseb provides you with all features, unlimited number of invoices, and unlimited number of users at the most affordable price point in the market. The software is free until April 15, 2022
Is it planned to expand AlMohaseb to include more business functions?